Shuttle Service
247 International Shuttle Airport Transfers


Are you looking for an economical way to travel abroad? 247AirportTransfer.com has come up with the best solution: shuttle services. If you do not want to book a private transfer, then 247 International Shuttle Transfer is at your disposal with a more convenient option. Costing less than a regular taxi (50% less), it still represents a very professional transfer. You will travel in a comfortable and safe manner to any destination in the world. As 247AirportTransfer.com specializes mainly in airport pick-ups, make sure to use our shuttle services to reach any local address in more than 100 cities all over the world.

We have a very professional system and qualified staff that will always choose the best route for your transfer. This door-to-door ground transportation is chosen by thousands of travellers on an annual basis, representing the best way to save money. If you are interested in a list with all the locations where 247AirportTransfer.com can provide shuttle transfers or in a specific city, do not hesitate to use the contact details. We are available 24/7, all year long, by email and phone.

The only difference between our shuttle transfers and the private ones is the total price of the journey. You will always enjoy solely modern vehicles, professional drivers and customer service assistance. But now you can have all these benefits for a cost similar to the public means of transport. Reservation can be made by using the online platform, by sending an email (contact@247airporttransfer.com) or by contacting a 247AirportTransfer.com operator over the phone.

Once you have made the reservation, you will receive an instant confirmation and invoice, containing the meeting point. The meet and great service is different from the one offered in the case of private transfers. However, the 247 International Shuttle Transfer is guaranteed to offer the same excellent travel conditions. Please make sure to always be on the requested time at the pre-established meeting point, so that the whole journey goes as planned and as smoothly as possible for all of the passengers involved.

In addition to this rule, please keep in mind that:

- Each passenger (including children) can carry a limited number of carry-on and medium pieces of luggage. One of our operator will offer these details according to the pick-up location;
- 247AirportTransfer.com cannot offer child seats (infant, child or booster seats) for its shuttle services. Parents are required to provide this safety matter in accordance to the laws of that particular city;
- If you are carrying a pet, please make sure to inform the operator. In case you do not comply with our shuttle regulations, you will have to book a private transfer.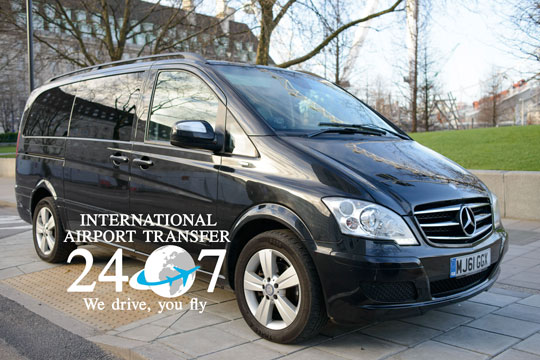 Ratings and reviews from our clients:
General rating: 4.75 (out of 8 reviews):
It was one of the best experience we had. Our holiday started and ended well. Got picked up on time and kept informed all the way through. I thank you for excellent and professional service.
(Matteo Bergamaschi)
Comfortable journey with no stress. The pick-up at the airport was extremely professional and on time.
(Claude Reault)
good experience !
(Gabrielly Barros Araujo)
Professional with courteous drivers and great customer service. I will recommend you to everyone I know.
(Gölöncsér Brigitta)
Modern transfers.
(Michael Holloway)
All reviews