Bus/Coach
247AirportTransfer.com can accommodate up to 80 passengers (including children) per vehicle with our modern coach fleet. You can use our airport transfer services in any of the countries written in the Destinations page. Take advantage of our attractive prices and enjoy a professional transfer available 24/7 on a worldwide level.

Our 247AirportTransfer.com private hire buses/coaches come with a driver. They do not include shuttle transfers. This means that the shown prices on our website are per vehicle and nor per passenger. These airport transfers have to be booked in advance according to our Terms and Conditions page. Each passenger has the right to carry one hand/cabin bag and a medium size piece of luggage:

• The hand/cabin bag: 56cm(H)*45cm(W)*25cm(D) (approximately 22 inches x 17.5 inches x 9.85 inches).
• The medium bag should not exceed more than 158 cm or 62 inch (height + width + length) and the weight 23kgs or 50 lbs.

As the term bus might not be common for your own country, please take a look below and see similar uses:

• Coach;
• Motor Coach;
• Bus;
• Double-decker;
• Sleeper bus.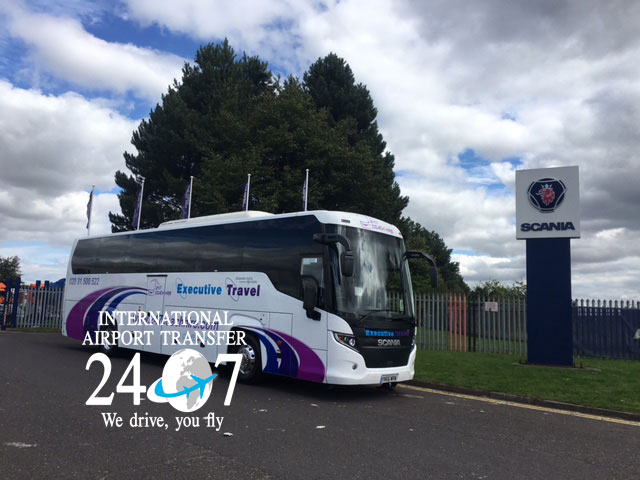 Take advantage of our modern fleet and enjoy a successful leisure or business airport transfer. Use 247AirportTransfer.com for comfortable long journeys and reliable bookings. Pay the best prices with our 10% discount for life offer. Simply relax and let us take care of your international transfers.

Ratings and reviews from our clients:
General rating: 4.75 (out of 8 reviews):
It was one of the best experience we had. Our holiday started and ended well. Got picked up on time and kept informed all the way through. I thank you for excellent and professional service.
(Matteo Bergamaschi)
Comfortable journey with no stress. The pick-up at the airport was extremely professional and on time.
(Claude Reault)
good experience !
(Gabrielly Barros Araujo)
Professional with courteous drivers and great customer service. I will recommend you to everyone I know.
(Gölöncsér Brigitta)
Modern transfers.
(Michael Holloway)
All reviews